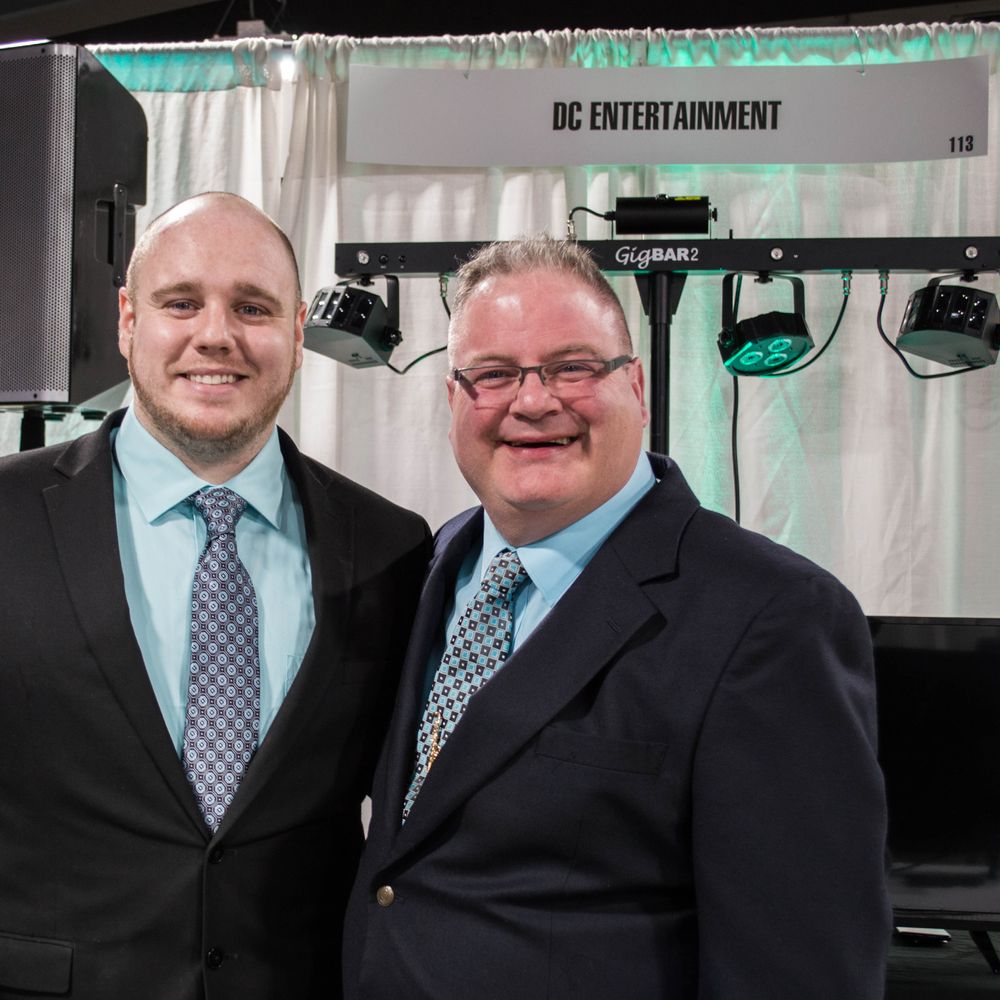 WE HELP YOU FOCUS ON WHAT REALLY MATTERS
AT DC ENTERTAINMENT WE ARE MORE THAN JUST A DJ. OUR GOAL IS TO MAKE SURE YOUR WEDDING IS AS ENJOYABLE AS POSSIBLE, NOT ONLY FOR YOUR GUESTS, BUT FOR YOU AS WELL! WE HELP PLAN AND COORDINATE EVERY DETAIL OF YOUR WEDDING. FROM ORGANIZING YOUR WEDDING PARTY AND PLAYING THE PERFECT SONGS TO MAKING SURE YOUR GUESTS ARE ENTERTAINED AND EVERYTHING HAPPENS ON TIME, WE HANDLE ALL OF THE LITTLE DETAILS SO YOU DON'T HAVE TO. WE KNOW FROM EXPERIENCE THERE ARE THOUSANDS OF VARIABLES THAT CAN IMPACT A WEDDING; WE ARE READY FOR EVERY ONE OF THEM. WITH DC ENTERTAINMENT YOU ARE HIRING MORE THAN SOMEONE TO PLAY MUSIC… WE HELP YOU PLAN THE DAY, COORDINATE THE DAY OF, AND HANDLE ALL OF THE STRESSORS SO YOU CAN FOCUS ON WHAT REALLY MATTERS!
"

They were detailed in making sure they knew exactly what we wanted at our reception, asking questions we hadn't even considered and did exactly as we wished. They are experienced and know just what to do to ensure you will be happy on your special day."
— Megan
 Your wedding is more than just "a wedding". It should be the most special and memorable day of you and your partner's lives. With so many moving parts to coordinate it can also become one of the most stressful days as well. That is why DC Entertainment has been the top choice of brides and grooms for the last 20 years; we take the time to learn each and every detail of your wedding (including those you may not be thinking of) and make sure they all come together on the day of your wedding. We also help you find all the right people to make your day brilliant! Having done 1,000's of weddings we have met some amazing photographers, caterers, venues, and decorators!  When the big day arrives, we are more than just your DJ. We take over all of the coordination and work so you can focus on getting married and celebrating! Just some of the things we handle during the wedding are
Guest Arrival Music

Ceremony Music

Line ups and timing

Introductions

First Dances

Toasts & Blessings

Dinner Dismissal

Shoe Game

Cake Cutting

Generation Dance

Dollar Dance

Bouquet and Garter Toss

Special Dances and Announcements

Videos of Your Events


 
We coordinate with your photographer and caterer to make sure everything is done when and how you want it done. We stay in constant contact and make it easy to communicate all of your plans and changes leading to your wedding day. We also use top of the line equipment and have a song library eclipsed by none. If you need a special song or mix, we have you covered. Our equipment is constantly evolving:
 
2,000 Watt Powered Speaker w/ Bass Boost
Wireless Sennheiser & Sure Mics for amazing vocal quality
Chauvet Lighting Systems w/ full room coverage
LCD Flat Screen Displays for photo / message / hashtag display
Pioneer DJ DDJ Boards for live mixing
HD Video Cameras for testimonials of your wedding guests
Zoom Recorder for speech and vow recording
If it's important to you, it is our priority! Contact us HERE to schedule a consultation and planning session!
It would be our honor to be a part of your story!
"

Beyond the the professional aspect, they are very friendly and easy to get along; they feel less like a DJ you hired and more so like a friend you invited to the wedding."
— Aaron
You are visitor number: 1162